How many opportunities come up in life to search for buried treasure?  Not many, but your opportunity can begin at www.hideacase.com.
From 1967-1991 Canadian Club hid 25 cases of whisky in remote locations around the world from the Great Barrier Reef of Australia to the North Pole and released clues, through a series of legendary ads as to where these cases were hidden for those daring enough to go looking
People went out in droves searching for the cases and some were found in places like Venezuela, Mt. Kilimanjaro and Death Valley - there are still some waiting to be discovered
There are still 9 cases waiting to be discovered and clues can be found at www.hideacase.com. Nearly 40 years from its debut, Canadian Club is reviving the campaign with a digital twist for the 21st century.  Instead of print ads, clues will come in the form of online challenges, games and clues where you will have to use your creativity, brain power and speed to collect points to move to the next round.
Details on how to enter the contest can be found when checking out HideACase.com.
Whether you are a MAC or PC fan, here's a cool little video that should solve the controversy once and for all (thanks for the link Mark!).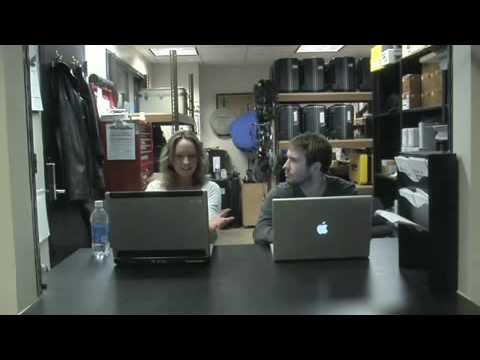 As we get closer and closer to inauguration day, more and more Barack Obama look-alikes are coming out.  I received a recent one from JayBeesy (thanks!).
As you can see this Barack Obama look-alike really bears a striking resemblance to our president-elect. I can't really tell if this guy is Filipino or Indonesian, but if someone can read some of the signage behind him and tell us what language it's in, we should have our answer.
If this Obama look-alike gained 10 pounds and got a better suit, he probably could make a living doing some Obama impersonating in Las Vegas.
There are also some great Barack Obama look-alikes on YouTube, check these out:
Growing up I was a comics fanatic. I would anxiously tear open the comics section of our local newspaper to read all my favorites, and even those I didn't really understand. Back then I didn't understand how much effort and work went into getting a comic strip syndicated or how much blood and tears went into the strips and the endless fights with censors who always cut the comics down.
Now that I'm older I've come to realize what's in the funny pages as a kid was only the tip of the iceberg. Of course back then there was no Internet and thus no web comics. But that's different now and most people in the newspaper comics industry don't pull out their comics when they retire. They let them keep running and most newspapers are fine with it. This makes it harder for new artists to get their comics syndicated and that's where the Internet comes into play.

In the last 10 years, the web comics field has exploded. This is mainly because the most active group on the Internet today were the most active readers of comics of yesterday. And so I present to you my top 5 web comics that you're not reading but should be. These comics are uncensored and completely original and because of that very hilarious.
Top 25 Awesome Songs about Obama, McCain, and Palin.
From psychedlic bengan rock to electro to hip-hop, here's a diverse rundown of the 25 best songs covering Election 2008. Regardless of who you're voting for, it's undeniable that this November highlights one of the most critical stepping stones for the United States in the 21st Century. Heck, even Everclear (yes, they're still a band) thinks so.
Ploomy in the art gallery. Frequent Ploomy contributor Mark Condon is cheesin it for the camera at a local art gallery opening in San Francisco. If you're wondering how he got his Ploomy t-shirt, he's contributed a few articles to the site.
If you'd like to submit your own article to Ploomy, click here.
Elsewhere:
When I was growing up my parents always reassured me that once I got out into the real world, the social status I had acquired in high school would soon dissolve into the night. We would all just be people. No longer would there be jocks, nerds and preps. Of course that's not true at all, and as I grew older I became more comfortable with my nerdy habits, and have ultimately come to accept who I am. This list is a compilation of other people who have come to terms with who they are. Nerds are one of the most influential group of people in the world… I just wish someone would have told the girls I liked in high school that.
"In order to survive, gotta learn to live with regrets" – Jay-Z
While most of us including myself have a no regrets mantra, sometimes we need to swallow our pride to admit that there are a few we might possess. True if a few things worked out differently, it might have tipped the delicate balance of your life. Had the domino fell another way, then who knows what position you would currently be in. You could be in a better or worse situation, but you'll never really know. You shouldn't always look back and lament these, so it's best to chalk up the L and keep it moving and attribute it to experience.
Dear Ploomy.com Readers,
We've been working hard to earn your trust as the go to website for men. Please vote for us on our run for the White House in 2008. Thank you for your continued support!
Ok you got us, no we're not really running for president.  Just check out the video though and at the end there is a link so you can play the same trick on your friends.
Editor's Note: This article was submitted by Associated Jungle.
Disclaimer: If this article offends you then it's YOU I'm referencing.
We've all been through it at some point. I'm talking about that rut, funk, spell or period in our lives where we feel like we've lost our swagger.
There are many reasons why this loss in confidence occurs (I'll let you fill in the blanks), but when it happens to you, it sucks major. Here are 30 tips to get you out of the doldrums and help you get your swagger back.
Some say to get a tattoo, go sky diving, shave your head, change your name, throw out all your clothes, move back to your home town, have a one-night-stand and things of that nature, but I want to focus on less extreme measures and more of the simple things you can do.
If you think about it, when an NBA player is in a slump, they're always told to get a few easy layups in or to get to the free throw line to get them going. These types of things should be no different for you. You don't need to necessarily overhaul everything you do. Sometimes you just have to do the little things that make a big difference to get you going again. Continue reading »
A long time ago in a galaxy far, far away…Okay before you break out your light saber and use the force on me, check out this really awesome spoof on Star Wars. It was created by the Organic Trade Association (OTA) and Free Range Studios a while back, but if you haven't seen it, it's definitely worth a look.
The five-minute movie features Cuke Skywalker, Princess Lettuce, Chewbroccoli and other organic rebels—played by real vegetables dressed as Star Wars characters—battling it out with Darth Tader, the evil lord of the Dark Side of the Farm. [via StoreWars.org]
Okay, now you can break out the light saber, just make sure it's the green colored one.