Back in 2000, my good friend Cindy (name has been changed) had one too many cranberry vodkas at the bar and got extremely sick. She was so bad that I had to throw her over my shoulder and take her to the hospital. The nurse said she would be fine and just had too much to drink. She said my friend was just very dehydrated and all she needed was a large bottle of Gatorade (no joke).
Well, that same iconic sports drink Gatorade is rebranding itself.
For anyone who has ever played sports, you know that Gatorade has been the "Thirst Aid" quencher for that deep down body thirst for many many years.
This is why we were interested when early last month, we got an email from Gatorade letting us know about their new rebranding efforts.
No less than a week later, a large box of Gatorade was at our office. Anxious to see the new product, I pulled out a bottle and sampled. The flavors tasted exactly the same (good because that would have been a mistake to change that). Although the new versions have enhanced nutrients (Gatorade Rebrand Product Chart with Nutrition Enhancements), the biggest difference was the packaging.
The new Gatorade rebrand is all about the "G." What is a "G?" Here's what their new marketing materials say:
Gatorade® Thirst Quencher will put the letter G front and center along with the brand's iconic bolt. For Gatorade, G represents the heart, hustle, and soul of athleticism and will become a badge of pride for anyone who sweats, no matter where they're active.

"Just like any good athlete, Gatorade is taking it to the next level," said Sarah Robb O'Hagan, chief marketing officer for Gatorade. "Whether you're in it for the win, for the thrill or for better health, if your body is moving, Gatorade sees you as an athlete, and we're inviting you into the brand.
During the Rose Bowl a few days ago (where USC trounced on a Florida school Penn State), a new Gatorade commercial featuring Lil Wayne (voice over) aired during the break. It didn't show the new packaging or even a Gatorade drink for that matter, but what it did show was the new attitude and direction of this iconic sports drink.
The new Gatorade rebranding effort makes sense especially with the likes of Vitamin Water eating away at their market share. Where Vitamin Water has 50 Cent in their stable of celebrity endorsers (50 Cent Vitamin Water Commercial), Gatorade counters with Lil Wayne.
If any of you Gatorade brand managers read this, we'd just like to say nice move with using Lil Wayne (although Kanye would have been nice too, but maybe he wasn't street enough for you).
New Gatorade Commercial – What is G? (voice over by Lil Wayne)
You can check out more Gatorade Commercials after the jump.
The History of Gatorade
1992 "Be Like Mike" Gatorade Commercial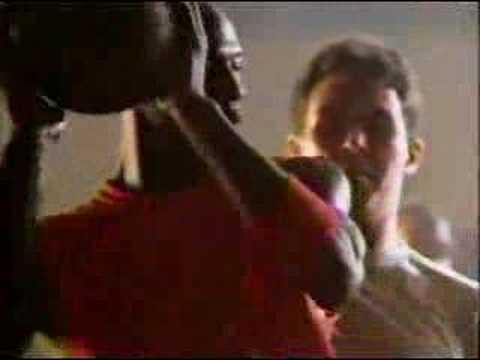 1989 Gatorade Commercial